The fitness industry sees fancy diets and new inventive classes come and go in bucket loads but one class which has been around for a while now and seems to be gaining even more momentum is the Insanity programme, from Beach Body.  The Insanity programme promises amazing results whether you are looking to strip fat, add muscle or just improve your overall fitness and is also billed as Americas number 1 fitness program!  Plus, there is no shortage of people ready to shout about its results. Insanity Supplements is a guide to the best essential supplements to support your regime. So, for those who are brave enough to take on this 60 day fat blasting, maximum intensity programme read on to ensure that you are armed for success.
Protection 
High intensity training puts additional stresses on the immune system and joints. Therefore, it's important to ensure that you give your body added protection to help fight against common colds, illness and injury.   When you take on a challenge like Insanity the last thing you want is to be hit with illness, as it will hinder your results. To support your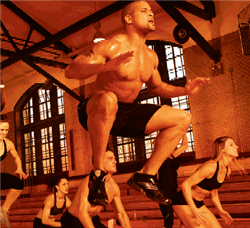 immune system, our recommendation is to go with a good multi vitamin that contains a healthy mix of helpful active ingredients; such as Vitamin C, Vitamin Bs, Magnesium and Zinc.  Our recommendation is Warrior Adonis.  The active ingredient profile of Adonis is endless and it has the perfect, powerful formulation to support a programme like Insanity.
During your 60 days of high intensity exercise, you won't lift a single weight but you will jump and burpee like never before.  With powerful, explosive movements comes joint stress but there are supplements available to help protect you. Glucosamine HCL and Chondroitin is a perfect combination known to support the joints of hard working athletes and during your 60 days of Insanity you will be just that!  Bodybuilding Warehouse Glucosamine HCL and Chondroitin comes with 60 servings, so one tub will last your full program.
Fuel
In terms of supplements to get you through a high intensity programme, one of the main things you instantly feel the benefit of is a preworkout.  There are lots of preworkouts on the market which can give you the extra energy boost that you need. If you have used Pre Workouts before, we would recommend trying something powerful like Warrior Rage and for those who are new to preworkouts a gentle energy boost like MusclePharm Assault is a great start.  Once you have your energy, its important to be able to sustain intensity and a BCAA Intra workout is perfect for this.  BCAAs will give your muscles the fuel they need to keep going for longer and Pure iBCAA 8:1:1 is our recommendation. You can read more about BCAAs by clicking here.
The Insanity programme requires daily intense workouts and the faster you recover the better. Your BCAAs and Multi Vitamin will aid your recovery but it is also important to consume protein post workout.  The perfect proteins for your goals are both fast and slow release proteins. Fast release Whey is easily digested and will feed your muscles straight away but you will also need a slower release to ensure that your body has the nutrition that it needs for the recovery period following your workout.  To keep things simple, we recommend  Pure Whey, Casein and Egg Protein which is the perfect 40:40:20 ratio which gives you fast, medium and slow release proteins all in one serving. Keep your eye out for part 2, for proteins which contain added ingredients to breakthrough plateaus.
If you'd like to try the Insanity programme, click here for details or click here for our free 6 week ab program.