If you're part of our inner circle newsletter you will be used to us sending you some awesome recipes for all kinds of protein treats. Each week we try and bring something new to the table and we usually do with the help of many of our new ever expanding  flavour ranges of whey protein powder. Instead of you digging deep to find some of our great whey protein powder recipes here are some of our all-time favourites. Bookmark this page and enjoy your treats!
BlueberryNut Protein Smoothie Recipe
Try this great tasting protein smoothie recipe when you want to reinvigorate your Vanilla Premium Whey Probiotic.
Banana Chocolate Protein Muffins
Ingredients:
3 large over-ripe bananas

2 scoops of

Pure Whey Protein Concentrate 80

⅔ granulated sugar

1 large egg, lightly beaten

1 cup all-purpose flour

½ cup cocoa powder

¼ teaspoon salt

½ teaspoon nutmeg

1 teaspoon baking soda

1 teaspoon baking powder

1 tablespoon of toffee sauce

2 tablespoons of vegetable oil

1 cup of chocolate chips
Method
1. Preheat oven to 190c and grease your muffin tray.
2. Next whisk the flour, protein powder, salt, baking soda and powder and the cocoa powder, along with the baking powder and put this to one side for a minute.
3. You will now need a larger bowl to mash the bananas in with the sugar and lovely toffee sauce and continue to mix until smooth.
4. Now add the egg and vanilla and fold in the dry ingredients that you set aside earlier.
5. You can add your chocolate ships right at the end of mixing if you have a sweet tooth.
6. Add the muffin mixture to your tray and then bake for 20 minutes, or until you can insert a knife into the centre and it comes out mostly clean.
Banana Peanut Butter Protein Slice
Ingredients
 2 cups quick cooking oats

6 scoops

Pure Whey 80 Protein

powder

1/4 cup whole wheat flour

1 tablespoon ground flaxseed

1 cup

peanut butter

2 ripe bananas

1/4 cup honey
Tip: The type of protein powder makes a huge difference in taste! Bodybuilding Warehouse Whey Protein Concentrate 80 Banana Peanut Butter  is an obvious choice for this recipe.
Directions
Preheat oven to 175 degrees and line a baking tray with grease proof paper.

Spread oats out onto an unlined baking sheet in a thin layer and put in the oven for about 10mins or until lightly browned - remove and cool.

Mix the cooled oats, protein powder, whole wheat flour and flaxseed in a mixing bowl and then add the peanut butter and honey. Mash the bananas into the mixture and make sure everything is properly mixed in.

Press the mixture onto the lined baking tray in a 1/2-inch layer. If you leave a bit of the grease proof sticking up on all sides of the baking tin then you'll be able to lift the bake out of the tin using the grease proof making it much easier for you later.

Bake in the preheated oven for about 15mins until the edges are golden brown. Take them out and put them on a wire cooling rack whilst still on the grease proof. The protein slice will harden as it cools and you can cut it up and store it in the fridge or a sealed container.

Eat those bad boys!
Protein Cookies
These delicious Protein Cookies are perfect to help with sweet cravings. Adapt them to fit your own diet and enjoy.
Ingredients:
40g Oats

50g

PURE 80 Whey Protein

1 whole egg

66g egg whites (2 egg whites)

Tablespoon of cinnamon

10g-20g Nutella

50g Blueberries/Cherries
What to do
Mix all the dry ingredients (oats, whey protein and cinnamon) together in a bowl.

Add the whole egg and egg whites and mix together, depending on the consistency you might want to add a small amount of water.

Pre heat the oven to 200° then add the blueberries/ cherries to the mix and give it a final stir.

Spoon the mix onto a baking tray making either lots of small cookies or less thicker cookies.

Cook in the oven for around 15 minutes and once they're done add the Nutella to the flat side of the cookie and enjoy.
Macros: 55g Carbs, 64g Protein, 18g Fat
All the ingredients above are devised to fit my current cutting diet and depending on your own diet adjust accordingly. Let us know what you think of the cookies
Peanut Butter Recipes
Grab your 1kg Pure Peanut Butter and give these quick and easy recipes a try.
Peanut Butter Bites
Prep Time: 10mins Cooking time: 0
What you need:
100g

Pecans

75g

Cranberries

1 scoop

Chocolate Pure Whey 80

1 tbsp

Cocoa powder

1tbsp

Ground Flax seed

1 tbsp

Agave syrup

60g

Desiccated coconut

2.5 tbsp

Pure Peanut Butter
1. Blitz the pecans in a blender until they resemble crumbs
2. Add the ingredients remaining ingredients and pulse
3. Mould the mixture into small balls
4. Refrigerate for 25 minutes
Eat and Enjoy.
Banana Peanut Butter Pancakes
Prep Time: 5 mins Cooking Time: 4 mins
What you need
1 Serving

 

Original flavour Premium Protein Pancakes

1 Large

Banana

2 tbsp

Pure Peanut Butter
1. Chop 1 banana into pound coin width slices and set aside
2. Now fill your Bodybuilding Warehouse Shaker with 100ml to 150ml of water and add 2 slightly rounded scoops of Premium Protein Pancake Mix. Shake for 20 seconds
3. Gently heat a non stick pan with a light coating of coconut oil over a moderate heat
4. When pan is warm, pour enough Premium Protein Pancake Mix into the pan to create a medium sized pancake
5. Cook on one side until the pancake begins to "fluff" up , then flip. Cook until both sides are golden brown and remove from the hob
6. Spread on your peanut butter and then add your sliced banana.
Eat and Enjoy
Peanut Butter Oat Bar
What you need:
2 tbsp

Smooth Pure Peanut Butter

2 tbsp

Honey

¼ tsp

Cinnamon

¼ tsp

Vanilla extract

1 cup

of

Pure Whole Oats
1. First, preheat your oven to 325 degrees and baste a baking try with Pure Coconut oil then set aside
2. Next mix the Pure Peanut Butter and Honey in a bowl, along with the cinnamon and vanilla
3. Now add oats and stir
4. Spread the mixture onto the baking tray and bake for 7 - 8 minutes until the lightly browned
5. Let cool, slice and then eat!
Happy Tasting :)
Tasty Protein Bites
Ingredients:
50g

Whole Oats

1 mashed banana (medium)

1 tb spoon

Pure Smooth Peanut Butter

(15g)

1 scoop Vanilla

Performance Diet Whey

V2
How To:
In a bowl, combine the oats, protein, peanut butter and mashed banana.

Mash together thoroughly to form a dough that can be moulded into balls.

Roll into 4-6 mini protein balls and place onto a baking tray.

Sprinkle on a topping of choice such as desiccated coconut or chopped nuts if you wish.

Bake in the oven at around 160 degrees for 12-15 minutes until the protein bites begin to brown.

Remove from the oven and serve with an amazing

Protein Hot Chocolate

from our Premium Range.  

Enjoy!
Macro Breakdown: (per whole recipe)
451kcal, Carbohydrate 52g, Fat 13g, Protein 32g
Protein Truffles 
½ Cup

Pure Oats

1 tablespoon of honey

1 Scoop (25g)

Pure Whey Protein Concentrate 80 - Chocolate

30g dried shredded coconut

1 tablespoon cocoa powder

1 tablespoon of

Pure Smooth Peanut Butter

2-4 tablespoons of almond milk

½ teaspoon vanilla extract

Extra dried shredded coconut for rolling
How to make:
Mix all ingredients together in a bowl; add the almond milk gradually until you reach the right consistency to mould the truffles.

Weigh out each truffle at 40g for rolling

Roll some, or all of each truffle in the extra coconut

Chill in the fridge for 30 minutes or until ready to eat.
Macros
Amount per serving: 74 calories, fat 3.8g, 2.3g saturated fat, 6.4g carbs, 4g protein.
Granola & Macaroon Breakfast Bars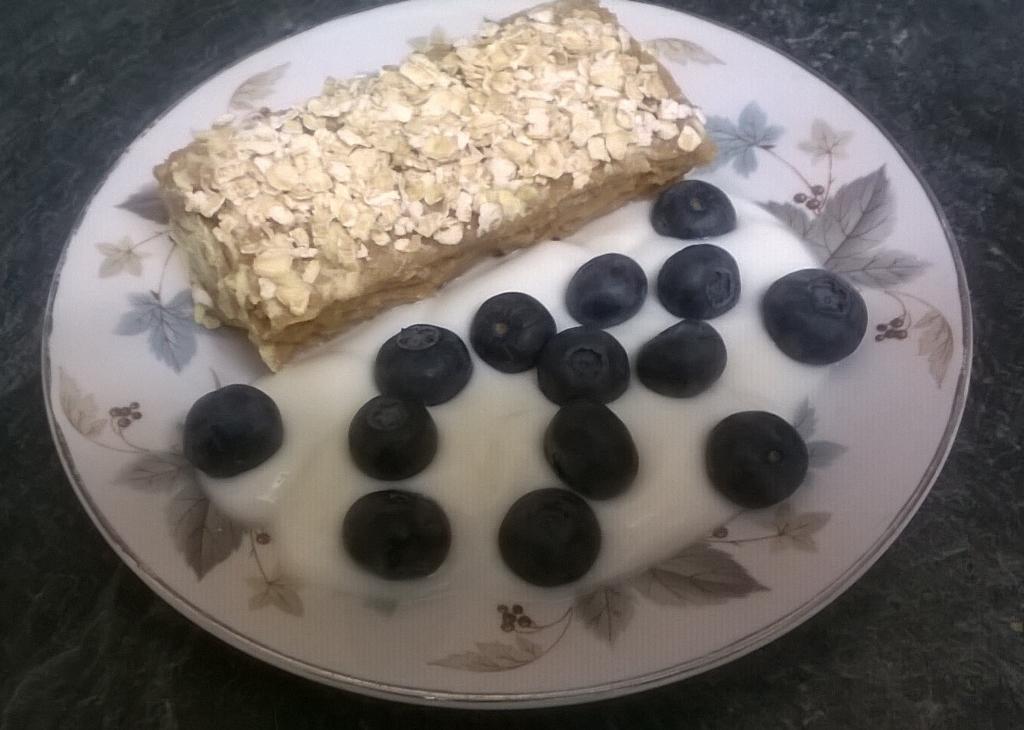 This Granola and Macaroon breakfast bar recipe makes 12 protein bars.
Thank you to @BonsiaAndBongos for providing the recipe to these delicious looking Granola & Macaroon breakfast bars, that we spotted on twitter.
More of a cake than a bar, these are thick, filling & will provide enough fuel to see you through the most hectic of mornings...
Ingredients;
(Makes 12 bars)
Oats - 6 cups

Nut butters (

Peanut

/Almond) - 1 1/2 cups

Natural Yoghurt - 1 cup

Semi-Skimmed milk - 1/2 cup

Macaroon Whey Protein powder

- 5 scoops

Dehydrated Berries - 2 cups

Dried coconut - to taste

Natural honey 2-3 spoons
Method;
Line a small tin or baking tray with well greased foil, allow enough foil on either side so that the mix car be remover from the tray easily.

In a large bowl, combine dried berries, 2 cups of oats & honey, mix well & line bottom of tray.

Place under a medium grill until the mix begins to toast & become sticky.

Leave mixture to cool.

In a bowl or food processor, combine yoghurt, milk & whey, mix until smooth.

Add 1 cup peanut butter & half a cup of almond butter, mix until smooth.

Add the rest of the oats to the mix & bring everything together.

(It is best to use your hands at this point)

(More milk can be added if the mixture becomes dry)

When everything is cool spread protein mix over the fruit & oats in the tray & dust lightly with coconut.

Place under a low heated grill to toast the coconut 

(Be careful not to have the heat to high, as this will spoil the mix)

Place in the fridge for 2-4 hours to set, carefully remove the mix by lifting it out with the foil..

Slice into 12 bars & store in an airtight container in the fridge.
Best consumed with fruit preserve for breakfast or as a pre workout snack. The bars will be stodgy so work well for getting in some extra calories during the day.
For a more traditional breakfast bar recipe, rather than a cake, replace yoghurt with milk or coconut cream. Spread the mix so that it is thinner and finish by gently baking on a medium heat, until the bars become slightly stiff.
Approximate values per bar: Kcal 260, Protein 20g, Carbs 24g, Fat 6g,
Note; These values are based on the ingredients & will vary depending on brands
Enjoy!
#BBWArmy