🚚 Order within the next
0 Day(s),

2 hours, 15 minutes

, 27 seconds
for delivery by
04 Dec, 2023
.
View full details
Get unlimited FREE next-day delivery for a year & Premier Member Exclusives! Now Just £9.99
GET BW+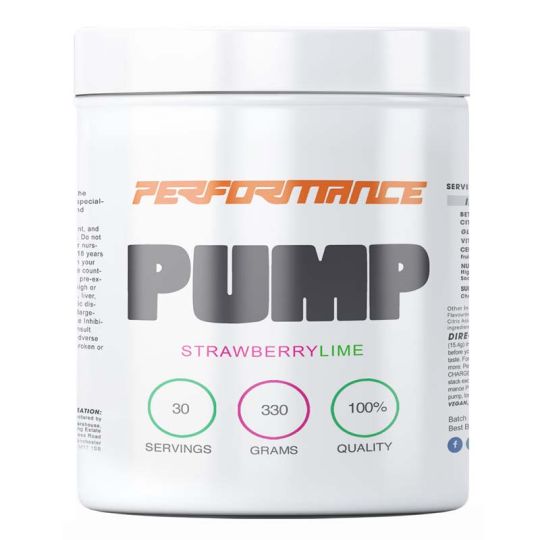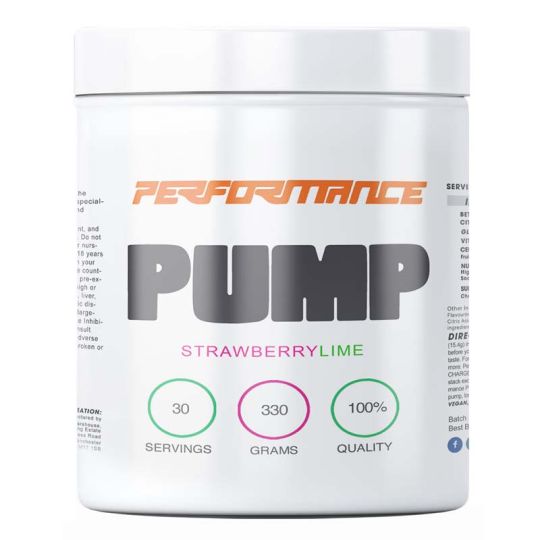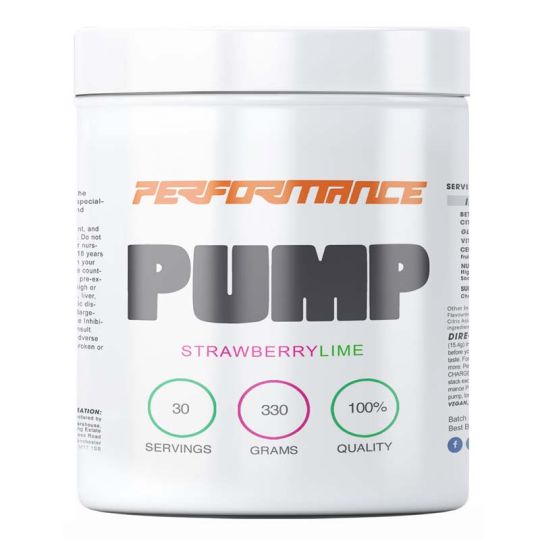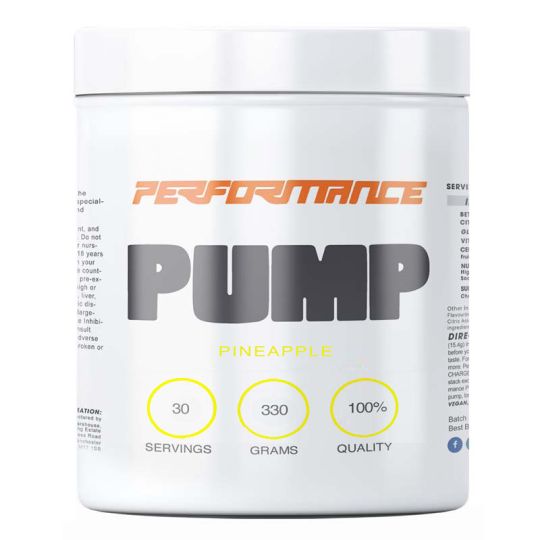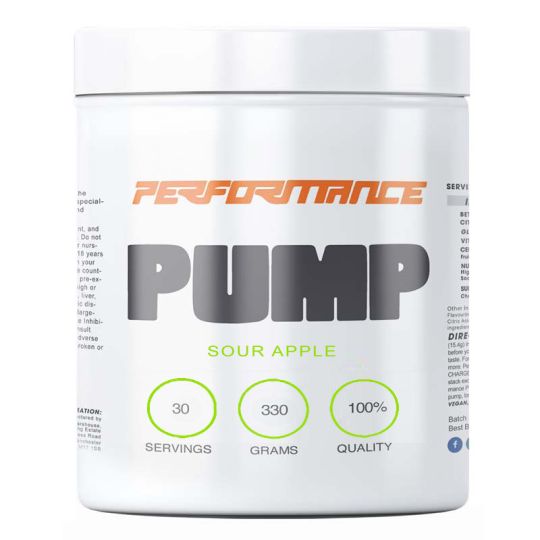 Performance PUMP
The Pump. Arnold described it as the most satisfying feeling you can get. He trained so hard for it, he would often complete 20 sets per bodypart - from chest, to triceps, shoulder, and famously, biceps. He chased the pump - and so do many still today. Performance PUMP has been created to assist those training in this fashion.
Key Facts
PUMP focused Pre-Workout Solution
1,000mg Glycerol Monostearate
3,000mg Citrulline Malate (2 to 1 ratio)
ZERO dangerous ingredients & Includes Choline Bitartrate!
Cyclic Dextrin Carbohydrate System!
30 Muscle-Blowing Servings!
Important Points
CAN be stacked with Performance CHARGE as PUMP is a stimulant-free pre-workout.
Performance PUMP combines several high-tech, state of the art ingredients in one great tasting formula that doesn't aim to stim you out. Too many pre-workouts today focus only on energy, they forget endurance, stamina, and pump. Performance PUMP brings this back with a bang!
Nutritional Facts

Performance PUMP:
Serving Size - 11g (1 Scoop)
Servings Per Container - 30

Ingredients Per Serving:
Glycerol Monostearate - 1,000mg
Citrulline Malate 2:1 - 2,200mg
Trimethylglycine – 2,200mg
Vitamin C - 360mg

Cell Transport Matrix - 1,265mg:
FruitFlow®, Instantised Taurine, Instantised Glycine

Nutrient Shuttling System – 3,126mg:
Highly Branched Cyclic Dextrin (Cluster Dextrin®), Sodium Bicarbonate

Subtle Natural Focus Mechanism - 425mg:
Choline Bitartrate (400mg), Vitamin B6 (25mg)

Other Ingredients:
Flavouring*, Sweetener (Sucralose, Stevia), Natural Colour (Beet Red), Citric Acid.
Note* the flavours in this product are of a tangy sherbet like nature due to the active ingredients in this blend.

Directions:
As a dietary supplement, mix 1 scoop (11g) in 200ml of water and stir or shake. Consume 20 minutes before your workout. You may add more or less water and adjust to taste. For a stronger flavour, use less water, for a milder flavour, use more. Performance PUMP can be stacked with Performance CHARGE. These 2 products are designed to work together and stack exceptionally well for an epic pre-workout cocktail. Performance PUMP can also be consumed on its own for a milder, high pump, low-stim pre-workout experience.

Warning: 
Performance PUMP is a food supplement and should be used as part of a balanced and varied diet. Do not exceed recommended dose. Do not use if pregnant or nursing. This product is only intended for healthy adults, 18 years of age or older. Before using this product, consult with your physician if you are using any prescription or over the counter medication or if you have or suspect you have any pre-existing medical condition including but not limited to: high or low blood pressure, cardiac arrhythmia, stroke, heart, liver, kidney or thyroid disease, seizure disorder, psychiatric disease, diabetes, difficulty urinating due to prostate enlargement or if you are taking a MAOI (Monoamine Oxidase Inhibitor) or any other medication. Discontinue use and consult your health care professional if you experience any adverse reaction to this product. Do not use if safety seal is broken or missing. Store in a cool dry place. Keep out of reach of children.

Size
473ml
Form
Powder
Brand
Bodybuilding Warehouse