🚚 Order within the next
0 Day(s),

2 hours, 15 minutes

, 27 seconds
for delivery by
08 Dec, 2023
.
View full details
Get unlimited FREE next-day delivery for a year & Premier Member Exclusives! Now Just £9.99
GET BW+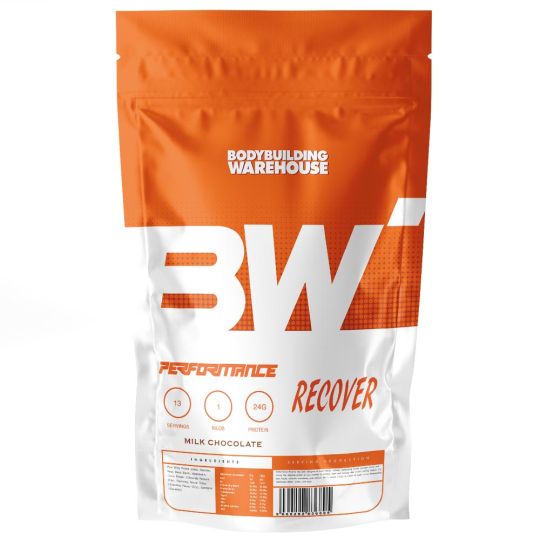 Performance Recover
Performance Recover has been designed to do one thing, and one thing well... help you recover faster with its superb protein (Protein contributes to the maintenance of muscle mass) and carbohydrate ( Carbohydrates contribute to the recovery of normal muscle function (contraction) after highly intensive and/or long-lasting physical exercise leading to muscle fatigue and the depletion of glycogen stores in skeletal muscle) matrix! What makes it special? Check out the key facts.
Key Facts:
Protein Exclusively From Fast-Acting Whey Protein Isolate!
Rapid Action Tri-Carb Complex: Waxy Maize Starch, Dextrose and Maltodextrin!
25g Ultra-Premium Quality Protein Per Serving!
39g Super-Fast Carbs Per Serving!
Over 7g BCAAs (Branch Chain Amino Acids) Per Serving!
Over 5.5g Glutamine Per Serving!
Amazingly, Ridiculously Tasty!
As an athlete, you can only train as hard as your body allows. You can only make gains when your body's fit and recovered from the last, hardcore session. So how do you make real progress - workout to workout, month to month, year to year?
By Focusing on Recovery!
Performance Recovery packs a super-charged recovery punch! It's been designed to help replenish muscle glycogen FAST post-workout and kick start the rebuilding cycle. We do this by combining two essential component of recovery - Protein and Carbs - but not just any protein, and not just any carbs.
Whey Protein Isolate
We utilise fast acting Whey Protein Isolate in Performance Recover because it's the fastest acting form of whey protein, and ultra-low in fats. This means it gets to your muscles

Nutritional Facts

Supplement Facts:
Serving Size: 75g
Servings Per Container: 13 (1kg) / 27 (2kg) / 53 (4kg)

Nutritional Information Per 75g Serving:
Kcal 265
KJ 1109
Protein (Dry Basis) 25.7g
Protein (As Is) 24.4g
Carbohydrates 39.54g
Sugars 12.26g
Fibre 0.76g
Fats 0.45g
of which Saturates 0.19g
Salt 0.004g

Nutritional Information Per 100g:
Kcal 353
KJ 1477
Protein (Dry basis) 34.24g
Protein (As is) 32.6g
Carbohydrates 52.73g
Sugars 16.34g
Fibre 1.02g
Fats 0.59g
of which Saturates 0.25g
Salt 0.006g

Nutritional values are based on Chocolate version. Other flavour variants nutritional values may vary very slightly.

Suggested Use :
Performance Recover has been designed to super-charge recovery, replenishing muscle glycogen stores and driving fast digesting protein to your muscles to enhance repair and recovery after a hard training session. For best results, consume immediately post workout. Mix 3 scoops (75g) in 400ml of water in your Bodybuilding Warehouse shaker, shake, and enjoy.

Ingredients:
Pure Whey Protein Isolate, Dextrose, Waxy Maize Starch, Maltodextrin, Cocoa Powder (Chocolate Flavours Only), Flavouring, Natural Colour (Strawberry Flavour Only), Sweetener (Sucralose).

Form
Powder
Brand
Bodybuilding Warehouse