🚚 Order within the next
0 Day(s),

2 hours, 15 minutes

, 27 seconds
for delivery by
09 Dec, 2023
.
View full details
Get unlimited FREE next-day delivery for a year & Premier Member Exclusives! Now Just £9.99
GET BW+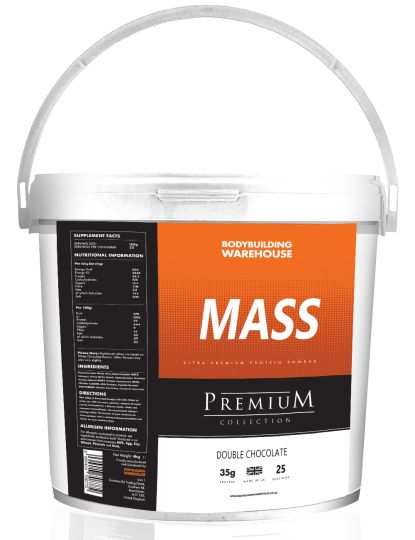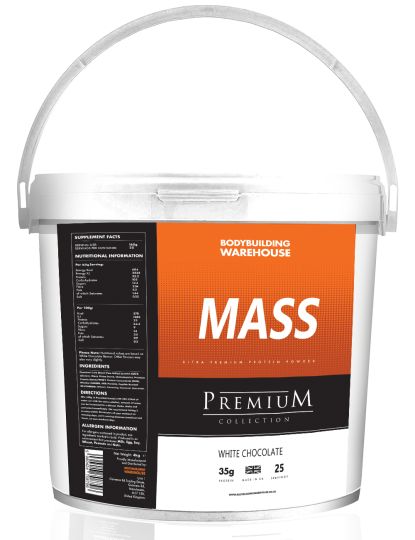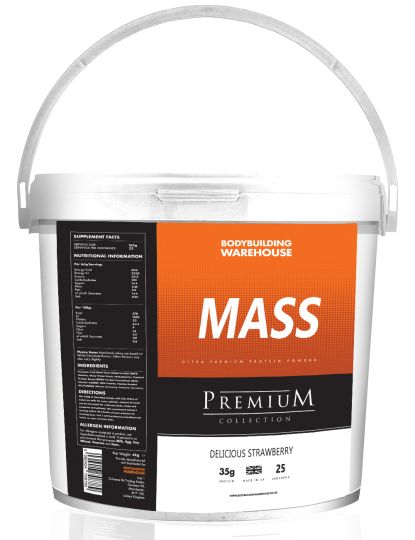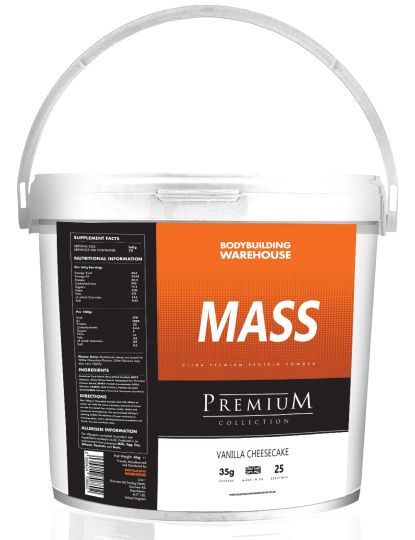 Premium Mass Gainer - 4kg
Huge 4kg Tub - Amazingly Delicious! Premium Mass is Back! This Mass gainer was created for those wanting premium Proteins and Carbs in an advanced Mass gainer blend, ensuring you have all you need in one shake.
Benefits
Packed with protein which contributes to the maintenance of Muscle Mass
Ideal Post-workout
Usable Between Meals
Well balanced clean Muscle Fuel
600+ calories per shake!!
35g protein per shake!!
Description
Premium Mass contains an ultra premium Whey (Fast Digesting) and Micellar Casein (Slow Digesting) blend, for balanced steady amino acid supply, along with a mixed carb blend of Ultra fine ground Oatmeal, Waxy Maize Starch and Maltodextrin.
Supplement Facts
Servings Size: 1 Heaped Scoop (160g)
Servings Per Container: 25 (4kg)
Nutritionals Per 160g Serving
Energy (kcal) - 604
Energy (KJ) - 2532
Protein - 35g
Carbohydrates - 103g
of which sugars - 14.4g
Fats - 5.2g
of which saturates - 1.44g
Fibre - 2.24g
Sodium - 0.32g
Nutritionals Per 100g
<


Nutritional Facts

Supplement Facts:
Servings Size: 1 Heaped Scoop (160g)
Servings Per Container: 25 (4kg) 

Nutritionals Per 160g Serving:
Energy (kcal) - 604
Energy (KJ) - 2532
Protein  - 35g
Carbohydrates - 103g
of which sugars - 14.4g
Fats - 5.2g
of which saturates - 1.44g
Fibre - 2.24g
Sodium - 0.32g

Nutritionals Per 100g:
Energy (kcal) - 378
Energy (KJ) - 1583
Protein (As Is) - 22g
Carbohydrates - 64.4g
of which sugars - 9g
Fats - 3.3g
of which saturates - 0.9g
Fibre - 1.4g
Sodium - 0.2g

Serving Suggestions:
Mix 160g (1 heaped scoop) with 300ml of water (or milk for extra calories), amount of water can be increased for a thinner shake, shake and consume immediately. We recommend taking 1 serving within 30 minutes of your workout on training days, and 1 serving between breakfast and lunch, on non-workout days.

Ingredients:
Lean Carb Blend (Fine Milled ScottishOats, Waxy Maize Starch, Maltodextrin), Premium Protein Blend,(Whey Protein Concentrate [Milk], Micellar Casein,Milk Protein), Peptide Bonded Glutamine, Flavouring, Sweetener (Sucralose).

Allergens:
Contains Dairy products and oats. Produced in an environment that also processesMilk,Egg,Soy.Wheat,Peanuts andNuts.

Size
4kg
Form
Powder
Brand
Bodybuilding Warehouse