🚚 Order within the next
0 Day(s),

2 hours, 15 minutes

, 27 seconds
for delivery by
04 Dec, 2023
.
View full details
Get unlimited FREE next-day delivery for a year & Premier Member Exclusives! Now Just £9.99
GET BW+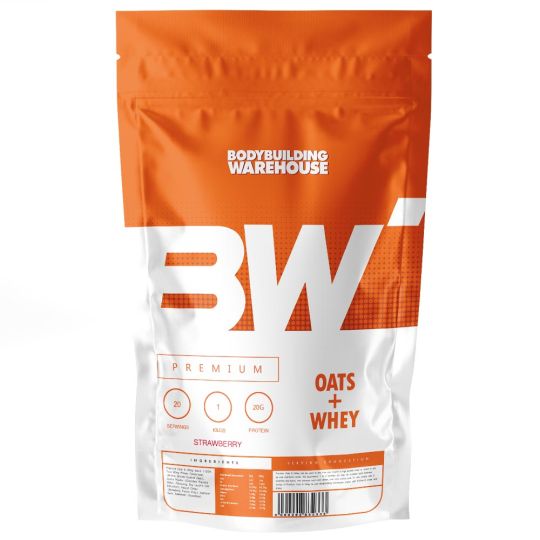 Premium Oats and Whey
Premium Oats and Whey from Bodybuilding Warehouse is the perfect "any time of day" meal replacement! Perfect for breakfast when you're in a rush, or as a snack between meals to keep you full!
Key Facts
An ultra-premium blend of 100% Pure Whey Protein, and Ultrafine Scottish Oats.
Over 21g of premium protein per serving.
Over 19g of complex, low-GI carbs per serving.
Packed with healthy, naturally occurring fibre from wholegrain oats.
Delicious and tasty.
Instant mixing and easy to blend.
Perfect for breakfast on the go.
Premium Oats and Whey is an ultra-premium blend of the highest quality Pure Whey Protein and Ultrafine Scottish Oats. Each serving is packed with 21g of Premium 100% Pure, Undenatured Whey Protein and 19g of complex carbohydrates from Ultrafine Scottish Oats. As meal replacements go, this is one of the healthiest and most natural ways to get in those extra calories!
Manufactured In-House to the Highest Standards
At Bodybuilding Warehouse we pride ourselves on quality. Our Premium Oats and Whey has been produced in-house in our own State of the Art Facility, using ingredients from approved, audited suppliers who meet our strict quality assurance standards, and work within our Principles. It comes supplied in a Bodybuilding Warehouse high-quality sealed pouch that is sealed immediately upon manufacturing, to maintain pristine freshness and a free scoop is added to every one. If you lead a busy life, and don't always have time to prep each and every breakfast, Premium Oats and Whey will come in handy. No more grabbing food on the rush into work, and no more missing meals.
Nutritional Facts

Supplement Facts:
Serving Size: 50g (2 Scoops)
Servings Per Container: 20 (1kg) / 40 (2kg) / 80 (4kg)

Nutritional Information Per 50g Serving:
Kcal 197
KJ 824
Protein (Dry Basis) 21.89g
Protein (As Is) 20.33g
Carbohydrates 19.95g
Sugars 1.33g
Fibre 2.20g
Fats 3.31g
of which Saturates 1.36g
Salt 0.1g

Nutritional Information Per 100g Serving:
Kcal 394
KJ 1648
Protein (Dry Basis) 43.79g
Protein (As Is) 40.65g
Carbohydrates 39.91g
Sugars 2.66g
Fibre 4.40g
Fats 6.62g
of which Saturates 2.72g
Salt 0.2g
    
Nutritional values are based on Vanilla version. Other flavour variants nutritional values may vary slightly.

Suggested Use:
Premium Oats & Whey can be used at any time you require a high protein meal or snack to top up your nutritional needs. We recommend 1 to 3 servings per day, for example once between breakfast and lunch, one between lunch and dinner, and once before bed. To mix, simply add 2 scoops of Premium Oats & Whey to your Bodybuilding Warehouse shaker with 300ml of water and shake.

Ingredients:
Premium Oats & Whey Blend (100% Pure Whey Protein Concentrate, Ultrafine Ground Scottish Oats), Cocoa Powder (Chocolate Flavours Only), Flavouring, Soy Lecithin (As Emulsifier), Natural Colour (Strawberry Flavour Only), Xantham Gum, Sweetener (Sucralose).

Form
Powder
Brand
Bodybuilding Warehouse