Out of Stock
SKU:B61-BC-1
Skip to product information
Vegetarian

Genetically Modified Free
Out of Stock
SKU:B61-BC-1
🚚 Order within the next
0 Day(s),

2 hours, 15 minutes

, 27 seconds
for delivery by
09 Dec, 2023
.
View full details
Get unlimited FREE next-day delivery for a year & Premier Member Exclusives! Now Just £9.99
GET BW+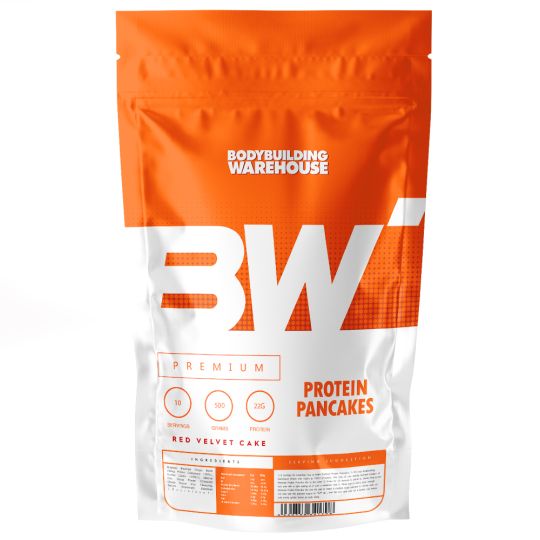 Premium Protein Pancakes
Breakfast is the most important meal of the day, and our Premium Protein Pancakes make it easy to have an incredibly delicious, high protein one!
What Makes Premium Protein Pancakes Special?
We've founded our Premium Protein Pancakes on the concept of balance - a balance between muscle building protein, and healthy low-GI carbs, and a balance between fast acting whey, and slow digesting casein. Each 50 gram serving of Premium Protein Pancake Mix will give you 2 medium sized delicious pancakes that you can have ready in 5 minutes.
What's in it?
22g Protein Per Serving
A 50/50 Mix of Fast Acting Whey and Slow Digesting Casein
19g of low-GI, slow burning oats
Easy to make and delicious!
How do I make them?
That's easy! Here are the steps:
Fill your Bodybuilding Warehouse Shaker with 100ml to 150ml of water
Add 50g (2 very slightly rounded scoops) of Premium Protein Pancake Mix to the water
Shake for 20 seconds to blend
Gently heat a non stick pan with a light coating of oil over a moderate heat
When pan is warm, pour enough Premium Protein Pancake Mix into the pan to create a medium sized pancake
Gently cook on one side until the pancake begins to "fluff" up , then flip over and cook for a further one minute until evenly golden brown on both sides.
Take off the hob, put on a plate, and enjoy!
One 50g serving in 100ml water is enough to give you 2 medium sized pancakes. These are scrumptious on their own, or you can rock

Nutritional Facts

Premium Protein Pancakes - Supplement Facts:
Serving Size: 50g

Nutritional Information Per 50g Serving:
Kcal 195
KJ 816
Protein (Dry Basis) 23.20g
Protein (As Is) 22.01g
Carbohydrates 19.16g
of which Sugars 1.69g
Fibre 2.20g
Fats 2.89g
of which Saturates 1.01g

Nutritional Information Per 100g:
Kcal 390
KJ 1633
Protein (Dry basis) 46.39g
Protein (As is) 44.02g
Carbohydrates 38.32g
of which Sugars 3.37g
Fibre 4.40g
Fats 5.78g
of which Saturates 2.03g

Suggested Use:
1-2 servings for breakfast, perhaps topped off with some blueberries or a chopped banana is the perfect way to start the day!

How to Make Premium Protein Pancakes:

Fill your Bodybuilding Warehouse Shaker with 100ml to 150ml of water
Add 50g (2 very slightly rounded scoops) of Premium Protein Pancake Mix to the water
Shake for 20 seconds to blend
Gently heat a non stick pan with a light coating of oil (try usingcoconut oil as a healthy alternative) over a moderate heat
When pan is warm, pour enough Premium Protein Pancake Mix into the pan to create a medium sized pancake
Gently cook on one side until the pancake begins to "fluff" up , then flip over and cook for a further one minute until evenly golden brown on both sides.
Take off the hob, put on a plate, and enjoy!

Ingredients:
Balanced Breakfast Protein Blend (Whey Protein Concentrate (50%), Micellar Casein (50%)), Ultrafine Oats, Cocoa Powder (Chocolate Orange flavour only) Flavouring, Sodium Bicarbonate, Sweetener (Sucralose).

LUX Flavours - Nutritional Facts:

Lemon Almond Cake - Supplement Facts:

Supplement Facts:
Serving Size: 50g (2 scoops)

Nutritional Information Per 50g Serving:
Kcal 216
KJ 899
Protein (Dry Basis) 18.91g
Protein (As Is) 18.08g
Carbohydrates 17.49g
of which Sugars 1.59g
Fibre 2.53g
Fats 7.77g
of which Saturates 1.13g

Nutritional Information Per 100g:
Kcal 430
KJ 1799
Protein (Dry basis) 37.83g
Protein (As is) 36.16g
Carbohydrates 34.98g
of which Sugars 3.17g
Fibre 5.06g
Fats 15.54g
of which Saturates 2.26g

 Suggested Use:
1-2 servings for breakfast, perhaps topped off with some blueberries or a chopped banana is the perfect way to start the day!

 How to Make Premium Protein Pancakes:

Fill your Bodybuilding Warehouse Shaker with 80ml to 100ml of water
Add 50g (2 very slightly rounded scoops) of Premium Protein Pancake Mix to the water
Shake for 20 seconds to blend
Gently heat a non stick pan with a light coating of oil (try using coconut oil as a healthy alternative) over a moderate heat
When pan is warm, pour enough Premium Protein Pancake Mix into the pan to create a medium sized pancake
Gently cook on one side until the pancake begins to "fluff" up , then flip over and cook for a further one minute until evenly golden brown on both sides.
Take off the hob, put on a plate, and enjoy!

Ingredients:
Balanced Breakfast Protein Blend (Whey Protein Concentrate (50%), Micellar Casein (50%)), Ultrafine Oats, Natural Ground Almonds, Flavouring, Sodium Bicarbonate, Sweetener (Sucralose).

NOTE:
Our LUX Premium Protein Pancakes with Natural Ground Almond or Natural Chopped Coconut, are best with a little less water than our normal Premium Protein Pancake Mix. Try 80ml to 100ml per 2 scoops for best results.

Strawberry Coconut Crumble - Supplement Facts:

Supplement Facts:
Serving Size: 50g (2 scoops)

Nutritional Information Per 50g Serving:
Kcal 224
KJ 941
Protein (Dry Basis) 17.49g
Protein (As Is) 16.67g
Carbohydrates 19.17g
of which Sugars 1.91g
Fibre 3.42g
Fats 8.64g
of which Saturates 6.41g

Nutritional Information Per 100g:
Kcal 448
KJ 1882
Protein (Dry basis) 35g
Protein (As is) 33.32g
Carbohydrates 38.34g
of which Sugars 3.81g
Fibre 6.84g
Fats 15.54g
of which Saturates 12.82g

NOTE: Saturated fats in the above come almost entirely from the Natural Chopped Coconut. Saturated fats in Coconut are healthy, natural fats and over 50% lauric acid. This is beneficial, not harmful, and as such a great addition to your diet.

Suggested Use:
1-2 servings for breakfast, perhaps topped off with some blueberries or a chopped banana is the perfect way to start the day!

How to Make Premium Protein Pancakes:

Fill your Bodybuilding Warehouse Shaker with 100ml to 150ml of water
Add 50g (2 very slightly rounded scoops) of Premium Protein Pancake Mix to the water
Shake for 20 seconds to blend
Gently heat a non stick pan with a light coating of oil (try using coconut oil as a healthy alternative) over a moderate heat
When pan is warm, pour enough Premium Protein Pancake Mix into the pan to create a medium sized pancake
Gently cook on one side until the pancake begins to "fluff" up , then flip over and cook for a further one minute until evenly golden brown on both sides.
Take off the hob, put on a plate, and enjoy!

Ingredients:
Balanced Breakfast Protein Blend (Whey Protein Concentrate (50%), Micellar Casein (50%)), Ultrafine Oats, Natural Chopped Coconut, Flavouring, Sodium Bicarbonate, Sweetener (Sucralose).

NOTE:
Our LUX Premium Protein Pancakes with Natural Ground Almond or Natural Chopped Coconut, are best with a little less water. Try 80ml per 2 scoops to start with for best results.

Form
Powder
Brand
Bodybuilding Warehouse