Out of Stock
SKU:B250-N-1
Out of Stock
SKU:B250-N-1
🚚 Order within the next
0 Day(s),

2 hours, 15 minutes

, 27 seconds
for delivery by
08 Dec, 2023
.
View full details
Get unlimited FREE next-day delivery for a year & Premier Member Exclusives! Now Just £9.99
GET BW+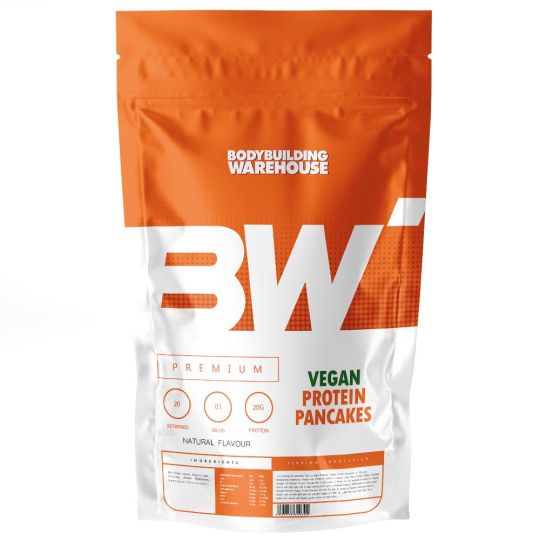 Premium Vegan Protein Pancakes
Breakfast is the most important meal of the day, and our Premium Vegan Protein Pancakes make it easy to have an incredibly delicious, high protein one, now in a delicious vegan friendly recipe!
What Makes Premium Vegan Protein Pancakes Special?
Our Premium Vegan Pancakes are also bolsted with Inulin Prebiotic Fibre also to give a healthy Fibre boost! Each 50 gram serving of Premium Vegan Protein Pancake Mix will give you 2 medium sized delicious pancakes that you can have ready in 5 minutes.
What's in it?
20g Protein Per Serving
100% Vegan Friendly
25g of low-GI, slow burning oats
Low in Sugar!
Easy to make and delicious!
High in Fibre!
How do I make them?
That's easy! Here are the steps:
Fill your Bodybuilding Warehouse Shaker with 100ml to 150ml of water
Add 50g (2 very slightly rounded scoops) of Premium Vegan Protein Pancake Mix to the water
Shake for 20 seconds to blend
Gently heat a non stick pan with a light coating of oil over a moderate heat
When pan is warm, pour enough Premium Protein Vegan Pancake Mix into the pan to create a medium sized pancake
Gently cook on one side until the pancake begins to "fluff" up , then flip over and cook for a further one minute until evenly golden brown on both sides.
Take off the hob, put on a plate, and enjoy!
One 50g serving in 100ml water is

Nutritional Facts

Supplement Facts

Serving Size: 50g (2 Rounded Scoops)
Servings per Container:10 (500g) / 20 (1kg)

Nutritional Information Per 50g Serving:
Kcal 188
KJ 788
Protein  20.4g
Carbohydrates 21.39g
of which Sugars 0.66g
Fibre 6.41g
Fats 2.32g
of which Saturates 0.42g

Nutritional Information Per 100g:
Kcal 376
KJ 1573
Protein 44.02g
Carbohydrates 40.79g
of which Sugars 1.31g
Fibre 12.82g
Fats 4.64g
of which Saturates 0.84g

Suggested Use:
1-2 servings for breakfast, perhaps topped off with some blueberries or a chopped banana is the perfect way to start the day!

Ingredients:
Pea Protein Isolate Powder, Natural Scottish GroundOATS, Flavouring, Sodium Bicarbonate, Sweetener (Sucralose).

For allergens see ingredients listed inbold/CAPITALS

May also contain Soya, Egg, Milk, Gluten, Nuts and Peanuts

Form
Powder
Brand
Bodybuilding Warehouse