🚚 Order within the next
0 Day(s),

2 hours, 15 minutes

, 27 seconds
for delivery by
08 Dec, 2023
.
View full details
Get unlimited FREE next-day delivery for a year & Premier Member Exclusives! Now Just £9.99
GET BW+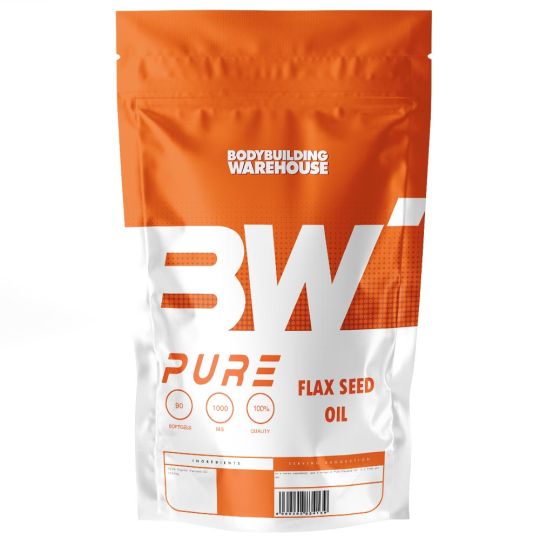 Pure Flaxseed Oil
Pure Flaxseed Oil is a 100% pure Flaxseed Oil supplement of the highest quality and purity, manufactured in our own state of the art facility. Flaxseed Oil is a great way to get in additional Essential Fatty Acids, is a great source of naturally occuring alpha-linolenic acid, and offers numerous health benefits outlined below.
Flaxseed Oil Benefits
Flax Seed Oil is a natural supplement (also known as Linseed Oil), highly recommended for general well being and whole body health. It is considered to be nature's richest source of omega-3 fatty acids. These essential fatty acids are required for the health of almost all body systems.
Omega-3 fatty acids are considered essential fatty acids. We need them for our bodies to work normally. Omega-3s have a number of health benefits, and play an important role in reducing inflammation throughout the body - in the blood vessels, the joints, and elsewhere.
Flax Seed Oil contains omega-6 and omega-9 essential fatty acids, B vitamins, potassium, lecithin, magnesium, and zinc and also provides approximately 50% more omega-3 oils than what you could get from taking fish oil, minus any unpleasant "fishy" after taste.
Benefits of Omega-3 Fatty Acids
Reduce inflammation
Improve heart health
Reduce risk of cancer
Improve skin health
Improve brain health
Reduce risk of depression
Nutritional Facts

Supplement Facts:
Serving Size: 1 Softgel

Ingredients Per Serving:
100% Organic Flaxseed Oil - 1000mg

Directions:
As a dietary supplement, take 1 softgel 2-3 times per day.

Other Ingredients:
Gelatin, Glycerine, Purified Water, Caramel Colour

Form
Tablets/Capsules
Brand
Bodybuilding Warehouse