Out of Stock
SKU:B145-120
Out of Stock
SKU:B145-120
🚚 Order within the next
0 Day(s),

2 hours, 15 minutes

, 27 seconds
for delivery by
04 Dec, 2023
.
View full details
Get unlimited FREE next-day delivery for a year & Premier Member Exclusives! Now Just £9.99
GET BW+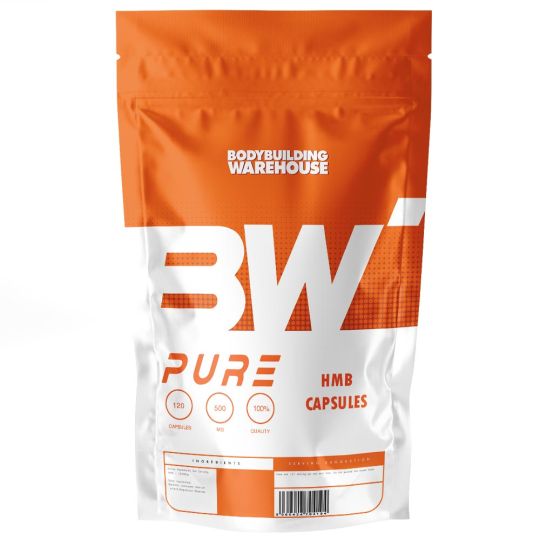 Pure HMB Capsules by Bodybuilding Warehouse™ - 120 Capsules
*** All Sizes Available! - Ultra-Premium Quality! - Made in the UK! ***
What are Pure HMB Capsules? These caps provide you with 1500mg of HMB per serving, making this one of the most potent options available on the market. HMB or Beta-Hydroxy Beta-Methylbutyrate as it's full name, has been taken by bodybuilders since the 90's and has for a long time been believed to assist in muscle recovery making this a very popular post-workout supplement. HMB naturally occurs in the body from the consumption of leucine however a high consumption of leucine would only result in a minimal production of HMB naturally, hence the necessary supplementation.  Who can use HMB capsules? These handy HMB caps are suitable for anyone that is looking to improve in their recovery following a workout. If you are looking to achieve a leaner physique, HMB can be beneficial to take as part of your daily supplementation. These capsules also aid to disguise the usually unpleasant taste of HMB.
Supplement Facts: Serving Size 3 capsules Servings per Container: 40
Active Ingredients Per Serving: HMB - 1500mg
Other Ingredients: Gelatine (colourant titanium oxide),Magnesium Stearate.
Directions for taking Pure HMB: Take one (3 caps) serving per day with food. Do not exceed the stated dose.
Warnings: Pure HMB Capsules should be used as part of a balanced and varied diet. Do not exceed the recommended dose. Store out of the reach of children. Please consult your G.P. if you have a pre-existing medical condition. Not recommended for pregnant or lactating women. Produced in an environment that processes Milk, Egg, Soy, Wheat, Peanuts and Nuts.
Nutritional Facts

Supplement Facts:
Serving Size 3 capsules
Servings per Container: 40 / 60 / 80

Active Ingredients Per Serving:
HMB - 1500mg

Other Ingredients:
Gelatine (colourant titanium oxide),Magnesium Stearate.

Directions for taking Pure HMB:
Take one (3) serving per day with food. Do not exceed the stated dose.

Warnings:
Pure HMB Capsules should be used as part of a balanced and varied diet. Do not exceed the recommended dose. Store out of the reach of children. Please consult your G.P. if you have a pre-existing medical condition. Not recommended for pregnant or lactating women. Produced in an environment that processes Milk, Egg, Soy, Wheat, Peanuts and Nuts.


 

Form
Tablets/Capsules
Brand
Bodybuilding Warehouse