Out of Stock
SKU:B176-100
Out of Stock
SKU:B176-100
🚚 Order within the next
0 Day(s),

2 hours, 15 minutes

, 27 seconds
for delivery by
04 Dec, 2023
.
View full details
Get unlimited FREE next-day delivery for a year & Premier Member Exclusives! Now Just £9.99
GET BW+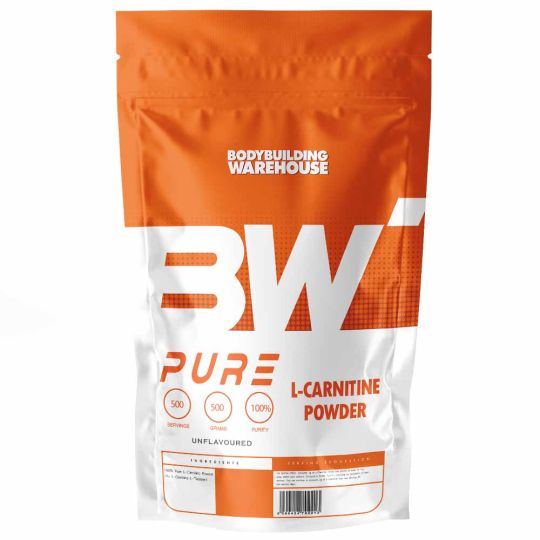 Pure L-Carnitine Powder - 100g
*** Ultra-Premium Quality ***
What is Pure L-Carnitine Powder?
Carnitine is an amino acid that comes in a number of forms, L-Carnitine works very differently to Acetyl L-Carnitine, particularly well as a weight loss aid as the main function if this is to convert fat into energy. L-Carnitine is naturally occurring in many foods but only in small doses, one of the highest being in beef providing 84mg in 3oz of steak - for this reason many athletes opt for the concentrated powder to optimise the effects of L-Carnitine. Using L-Carnitine as a weight management supplement makes sense since it helps move more fatty acids into your cells to be burned for energy, you might think this would increase your ability to burn fat and lose weight.
Key benefits:
Recovery - it may improve exercise recovery.
Muscle oxygen supply - it may increase oxygen supply to the muscles.
Stamina - it may increase blood flow and nitric oxide production, helping delay the "burn" and reduce fatigue.
Muscle soreness - it may reduce muscle soreness after exercise.
Red blood cell production - it may increase the production of red blood cells, which transport oxygen throughout your body and muscles.
It is important to note that several studies have shown some benefits when participants have taken L-carnitine supplements in larger doses, or for longer periods. L-carnitine's benefits may be indirect and take weeks or months to show. This differs from supplements like caffeine or creatine, which can directly enhance sports performance.
Supplement Facts:
Serving Size - 1g
Ingredients:
100% Pure L-Carnitine Powder
Suggest


Nutritional Facts

Supplement Facts:
Serving Size - 1g

Ingredients:
100% Pure L-Carnitine-L-Tartrate Powder (L-Carnitine 68.2% / L-Tartaric Acid 31.8%)

Suggested Use:
For optimal effects, consume 1g of L-Carnitine mixed into 200ml of water or fruit juice, before your workout. Consume a further 1g of L-Carnitine on completion of your workout. You can continue to consume 2g of L-Carnitine over two servings on non-workout days.


Warnings:
A small number of studies found that mild nausea developed occasionally when taking L-Carnitine however this is subject to the individual. L-Carnitine should be used as part of a balanced and varied diet. Do not exceed the recommended dose. Store out of reach of children. Please consult your doctor prior to use if you have a medical condition. Not recommended for pregnant or lactating women.

Produced in an environment that produces Milk, Egg, Soy, Wheat, Peanuts and Nuts.

Form
Powder
Brand
Bodybuilding Warehouse