🚚 Order within the next
0 Day(s),

2 hours, 15 minutes

, 27 seconds
for delivery by
08 Dec, 2023
.
View full details
Get unlimited FREE next-day delivery for a year & Premier Member Exclusives! Now Just £9.99
GET BW+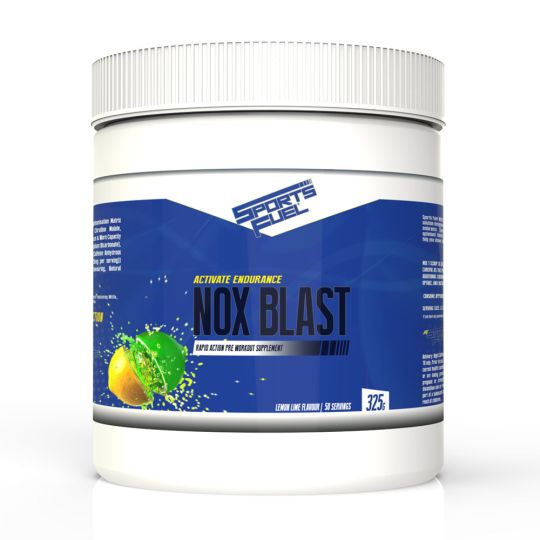 Sports Fuel NOX Blast Preworkout
Sports Fuel NOX Blast Preworkout is a comprhensive pre-workout formula. Sports Fuel NOX Blast combines a synergistic, optimised blend of advanced, clinically proven ingredients to help you show the world what you're really capable of - whether it's competing against 100 other people, or just your own personal best!
Key Facts
A huge 50 servings per container
Delicious in every flavour
Quick-dissolve technology ensures easy mixing
Are you ready to take your personal performance to the next level? Then choose Sports Fuel NOX Blast, and go out and make it happen!
Who We Are!
We at Sports Fuel believe in you. We believe in you at your best. You when the going gets tough. You when every thing is on the line and you need to push hard to the end. We believe in winning! We have engineered a unique range of high performance, research driven nutritional products designed to help you win, and overcome all those limitations the rest of the world try to put in your way. We know you're a champion, and you expect nothing but the best! Sports Fuel is about the Champions of today, and the Legends of tomorrow!
Nutritional Facts

Directions

Mix one serving of Sports Fuel Nox Blast to 250ml of cold water and stir or shake. Be careful as the powerful ingredients within may foam slightly due to the additional sodium bicarbonate which increases the speed of absorption in your body. Consume approximately 30 minutes before training.

Serving Information

Serving Size – 1 Scoop (6.5g)
Servings Per Container – 50

Active Ingredients Per Serving:
Advanced Strength, Power and Cell Volumisation Matrix (Creatine Monohydrate, Citrulline Malate, Arginine Alpha Alpha-Ketoglutarate), Endurance and Work Capacity Blast System (Beta-Alanine, Taurine, Sodium Bicarbonate), Focus and Energy Superdrive Factors (Caffeine Anhydrous (250mg per serving), Vitamin B6 (25mg per serving))

Other Ingredients: Maltodextrin, Flavouring, Natural Colours, Sweetener (Sucralose).

Warning
High caffeine content. Use caution when using with any other caffeinated products or if you are caffeine-sensitive. Always begin use with 1 scoop or less to access your tolerance. To avoid sleeplessness, do not consume within 4 hours of bedtime. Do not exceed the recommended dose, do not consume more than two servings inany 24 hour period. Apply caution when used alongside any other caffeinated products. Before consuming NOX Blast, seek advice from a health care practitioner if you are unaware of your current health condition or have any pre-existing medical condition including but not limited to: high or low blood pressure, cardiac arrhythmia, stroke, heart, liver or thyroid disease, anxiety, depression, seizure disorder, psychiatric disease, diabetes, pernicious anemia, difficulty urinating due to prostate enlargement, or if you are taking an MAO inhibitor or any other medication. Do not use if you are pregnant, nursing, prone to dehydration, or exposed to excessive heat. Reduce or discontinue use if sleeplessness, tremors, dizziness, nervousness, headaches or heart palpitations occur. NOX Blast is only intended to be consumed by healthy adults 18-50 years of age. Keep out of reach of children. Do not store in direct sunlight. Store in a cool dry place.

Works Well With
Why not stack it? The selection of great products below have been hand-picked by us, because they work well in combination with the product above. You could make your best gains ever by stacking.
Brand
Sports Fuel