🚚 Order within the next
0 Day(s),

2 hours, 15 minutes

, 27 seconds
for delivery by
08 Dec, 2023
.
View full details
Get unlimited FREE next-day delivery for a year & Premier Member Exclusives! Now Just £9.99
GET BW+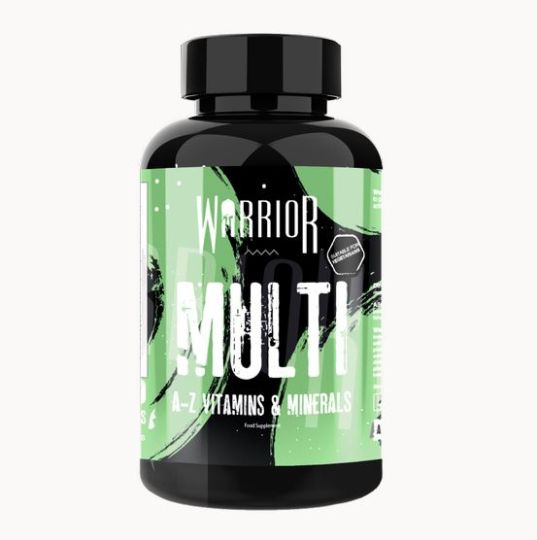 Warrior Supplements Essentials Range
The Warrior Supplements Essentials range brings you a range of products specifically selected to assist you in achieving and optimising a healthy lean physique. Supplying you with the best ingredients available.
Warrior Multi-Vitamin
Warrior Multi-Vitamin is a high intensity, high potency multi-vitamin and mineral complex, designed to give your body everything it needs in one ultra-concentrated daily dose. With over 30 active ingredients in a one-a-day dosage!
Nutritional Facts

Serving Size: 1 Tablet
Servings per container: 60

Nutritional Information Per Tablet | (% RDA)
Vitamin A (Retinyl Acetate) - 80mcg  | 10.49%
Alpha Lipoic Acid - 2mg*
Vitamin B1 (Thiamine) - 1.69mg  | 154%
Vitamin B2 (Riboflavin) - 1.6mg  | 114.29%
Vitamin B3 (Nicotinamide) - 18mg  | 112.50%
Vitamin B5 (D-Calcium Pantothenate) - 12.09mg  | 201.52%
Vitamin B6 (Pyridoxine) - 4.029mg  | 287.81%
Vitamin B12 (Cyanocobalamin) - 1mcg  | 40%
D-Biotin - 10mcg  | 20%
Vitamin C (Ascorbic Acid) - 30mg  | 38%
Citrus Bioflavonoids - 5mg*
Copper - 20mcg  | 2.34%
Vitamin D3 (Cholecalciferol) - 2.5mcg  | 50%
Vitamin E (DL-Alpha-Tocopheryl) - 10mg  | 83.33%
Folic Acid - 203mcg  | 101.85%
Grape Seed Extract - 5mg*
Iodine - 140mcg  | 95%
Inositol - 15mg*
Iron - 9.64mg  | 68.90%
L-Choline Bitartrate - 20.2mg*
L-Glutamine - 5mg*
L-Lysine - 15mg*
L-Methionine - 7.5mg*
Manganese - 1mg  | 50%
Magnesium - 5mg  | 1.33%
Molybdenum - 50mcg  | 101.20%
Para-Aminobenzoic Acid - 10mg*
Selenium - 31.5mcg  | 57.27%
Soy Lecithin - 40mcg*
Trimethylglycine - 5mg*
Zinc - 10mg  | 100%

*RDA not established

Other Ingredients:
Dicalcium Phosphate, Microcrystalline Cellulose, Magnesium Stearate, Silica.

Suggested Use
Take one tablet daily as a food supplement or as directed by a healthcare professional. Store in a cool dry place. Keep away from children at all times. Do not use if the seal is broken.

Allergens and suitability:
Free from artificial additives and preservatives
Lactose free
Wheat free
Fish free
Yeast free

Although the tablets are free from the above, they are packed using the same equipment that processes products containing Milk, Egg, Soy, Wheat, Peanuts and Nuts

Size
60 Tabs
Form
Tablets/Capsules
Brand
Warrior Supplements