🚚 Order within the next
0 Day(s),

2 hours, 15 minutes

, 27 seconds
for delivery by
09 Dec, 2023
.
View full details
Get unlimited FREE next-day delivery for a year & Premier Member Exclusives! Now Just £9.99
GET BW+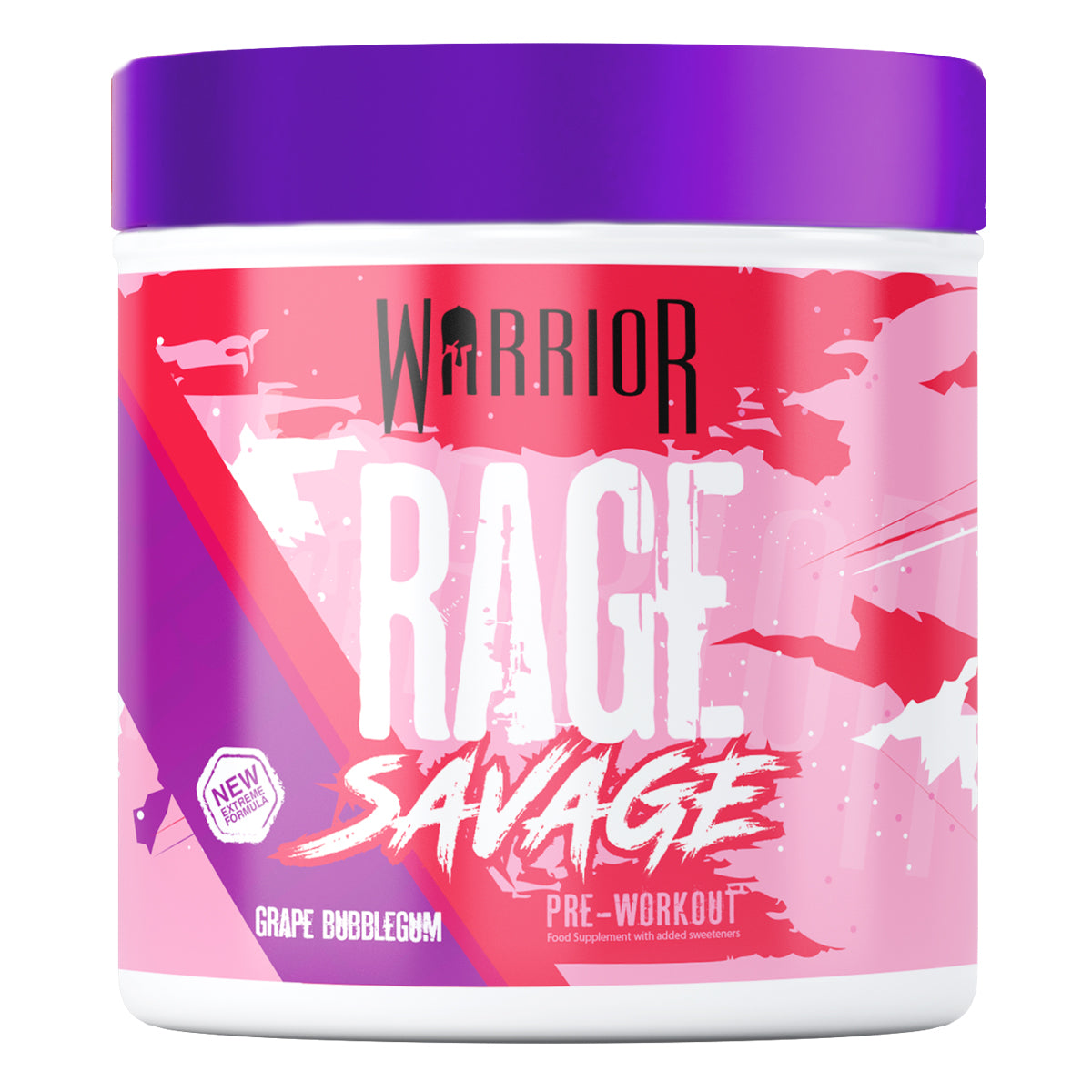 Warrior Rage SAVAGE Pre-Workout
Key Facts:
40 PACKED Servings!
PeakO2!
Dynamine!
6G Citrulline Malate!
3.2g Beta Alanine!
World Beating Dosing!
World Beating Formula!
This is not your average pre-workout. Warrior Rage SAVAGE is not for beginners. SAVAGE has been designed for experienced pre-workout users only, SAVAGE is the ultimate pre-workout formula and we're confident when you try it, you'll see just how incredible it is.
Designed by experts with over 30 years combined experience in the sports nutrition field, and using cutting edge ingredients like PeakO2 and Dynamine alongside clinically established staples in huge dosages like Citrulline Malate (6g), and Beta-Alanine (3.2g), SAVAGE takes the pre-workout game to the next level and beyond. This is for people who know what they're taking, who know the quality and efficacy of the ingredients inside, and who want a truly elite and premium pre-workout.
Nutritional Facts

Supplement Facts:

Serving Size - 1-2 Heaped Scoops (8.25g/16.5g)
Servings Per Container: 20/40

Active Ingredients (Per 1 Scoop / 2 Scoops):
Citrulline Malate - 3g / 6g
Beta Alanine - 1.6g / 3.2g
Citrulline Nitrate - 500mg / 1g
Taurine - 500mg / 1g
PeakO2 (Cordyceps Militaris (Cordyceps), Ganoderma Lucidum (Reishi), Pleurotus Eryngii (King Trumpet), Lentinula Edodes (Shiitake) and Hericium Erinaceus (Lions Mane). - 500mg / 1g
Dynamine (40% Extract) - 100mg / 200mg
Bitter Orange Peel - 125mg / 250mg
Caffeine Anhydrous - 125mg / 250mg
Choline Bitartrate - 250mg / 500mg
L-Tyrosine - 375mg / 750mg
Vitamin B6 - 12.5mg / 30mg
Bioperine - 2.5mg / 5mg

Other Ingredients:
Silicon Dioxide (Anti-Caking Agent), Sweetener (Sucralose), Citric Acid, Flavouring, Maltodextrin, Colour (Beta Carotene).

Brand
Warrior Supplements